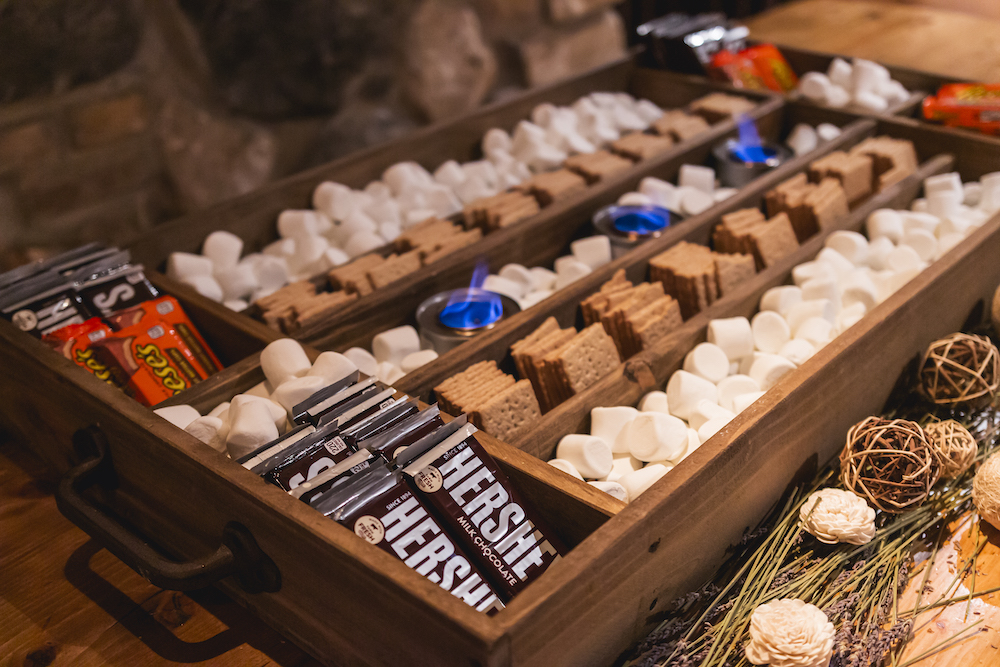 TIPS TO PLANNING A CORPORATE HOLIDAY PARTY IN CHICAGO
Feel that in the air? The crisp fall weather is peaking through our sunny 75s and you know what that means – the holidays are right around the corner. Holiday season is one of our favorite times of year at Osteria Via Stato because we love having any excuse to celebrate.
If you've hosted a party at Osteria, you know that we've got it down to a science.  Whether you're a corporate holiday party planning pro or a first timer, see below for our corporate party planning tips and tricks.
What's the purpose?
Of course, it's easy to jump into the fun stuff like picking the theme, choosing the food and then actually partying, but there are some essential questions to start with:
Why do you want to host a company holiday party? Perhaps it's pure gratitude for your employees or maybe to call out the highest achievers and greatest accomplishments for the year?
What is the purpose of the event? Will you be using interactive events like wine tasting or cooking classes to reenforce a team culture?  Highlighting iconic Chicago dishes and landmarks to bring employees together from all over the world?  Letting loose after an end of the year deal?  You know your staff best and how to reward them.
Identify Your Corporate Culture
Who works at your company and what is the environment in your office?  If your culture is casual, perhaps host an informal cocktail reception with Italian specialty stations and sommelier guided wine.  tastings.  A high stress environment?  Let loose with a casino themed event or a murder mystery dinner focusing on notorious Chicago gangsters.  If you are looking to give back, a fund-rasing gala with a silent auction is always a wonderful way to celebrate the holidays in Chicago.
Budgets and Availability
Yes, it's true – the hot dates for corporate holiday parties in Chicago are the first two weekends of the year.  But why be like all of the others?  Consider hosting your party during lunch hours (your guests will appreciate the early departure from the office) or on off-nights like a Tuesday or Wednesday.  Better yet, book your party in January,  after all of the travel and chaos of the holidays – pricing is often far cheaper for the venue and entertainment,  plus weekend dates are much easier to secure!
Location
Choosing the perfect location for your corporate holiday party is imperative.   You want an accessible spot for everyone plus, the celebration often doesn't end after the main event.  Osteria Via Stato is right in the heart of River North, in downtown Chicago, surrounded by bars, lounges and jazz music venues to continue on to.   The location is also easily reached by car, cab and train.
Entertainment
What does everyone remember about a party?  The food (we've got that covered!) and the entertainment.   Book a band for your guests to cut a rug on the dance floor plus, incorporate karaoke for the ultra brave employees on your team.  Consider a illustrator to draw unique caricatures or a cotton candy artist  to spin colorful confections.  The options are endless and our events team is more than happy to assist with recommendations!
Play Dress Up
Themes are all the rage and hosting an event with a suggested dress code makes it even more fun for your guests to get ready for the evening.  Bring in the flappers and gangsters (add an on-site cigar roller for an authentic feel) or go old-school with an 80's classic movie theme like Back To The Future or Ferris Bueller's Day Off.
Make It Interactive
Interactive events bring employees together for fun activities, rather than a spreadsheet, budget meeting or presentation.  Consider a creative holiday themed activity like ornament of cookie decorating.  Or perhaps culinary-inspired like mozzarella or limoncello making.  Compliment your activities with a wine tasting or cheese and charcuterie paring.
At Osteria Via Stato, hosting parties and creating memories is what we do. And, as a valued Lettuce Entertain You frequent diner, you get an additional 250 points for every $1000 spend during the holiday season*.  Learn more about joining our frequent diner club  and start earning points now to use at over 100 restaurants.
For more information on hosting a holiday (or any day!) party or special event, reach out to Natalie at sbparties@leye.com or 312-642-8450.