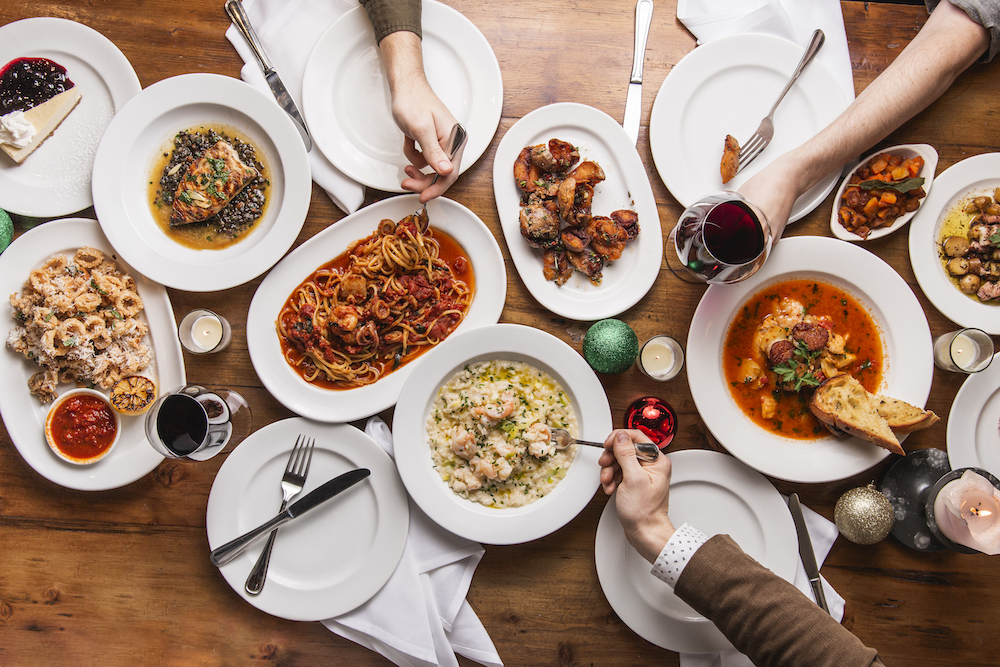 THE FEAST OF THE SEVEN FISHES
The Feast of the Seven Fishes, celebrated on Christmas Eve, is a time-honored Italian – American tradition that is believed to have several origins.  But, (surprise!) mention the meal in Italy and you may be met with blank stares. It seems the Feast of the Seven Fishes is about as authentically Italian as Chicken Parmesan, which isn't at all.
The main theory starts with religion.  As the roman Catholics traditionally avoid meat before the holy days, including Christmas, fish becomes the main dish for many to enjoy. The number "seven" is also prominent in many ancient beliefs and parts of the bible; seven sacraments, seven days of creation and seven sins…that's a lot of sevens!
Italian families love tradition and celebrations and, even though the Feast of the Seven Fishes may not have been born in Italy, many believe the dishes stem from the southern regions.  The proximity to the sea and plentiful fishing makes seafood affordable and abundant – perfect for large celebrations. A traditional Feast of the Seven Fishes incorporates seven courses and is prepared and served in a multitude of ways depending on region and tastes.
To make a reservation for Osteria Via Stato's Feast of the Seven Fishes, click here.
There are no limitations or rules with what can be served at a Feast of the Seven Fishes and each family has their own version of the menu.  One of our favorite and most traditional dishes is baccalà, or salted codfish, which originates in the seaside city of Naples.  Chef David Digregorio serves his version as a delicate spread, with olive oil crostini.  Other favorites on the menu at Osteria Via Stato are Grilled Octopus and Fingerling Potatoes, Lobster and Shrimp Risotto and Spice Crusted Faroe Island Salmon, Black Lentils.
"I have wonderful memories of my grandfather preparing the Feast of the Seven Fishes every Christmas Eve. For me, it is all about nostalgia and family. The Seven Fishes Dinner has become a tradition for many of our guests and we're looking forward to sharing it with more people every year." – Chef David DiGregorios
We would love for you and your family to enjoy this holiday celebration with us at Osteria Via Stato on December 24th.   To make a reservation, click here. 
Menu
Antipasti:
-Roasted Garlic, Balsamic Vinegar
-Salt Crusted Ciabatta Bread
-Baccala (Salt Cod) Spread, Crostini
-Rhode Island Calamari, Hot Cherry Peppers
-Grilled Octopus, Fingerling Potatoes
Main Course (choose one per person):
-Seafood Stew, Seared Scallops, Shrimp, Market Fish, Garlic Ciabatta Bread
-Seafood Linguine, Calamari, Scallops, Shrimp, Spicy Tomato Sauce
-Pan-Roasted Faroe Islands Salmon, Artichokes, Spinach, Lemon, Brown Butter
Side:
-Roasted Local Butternut Squash
Dolce:
-A Chef's Seasonal Selection