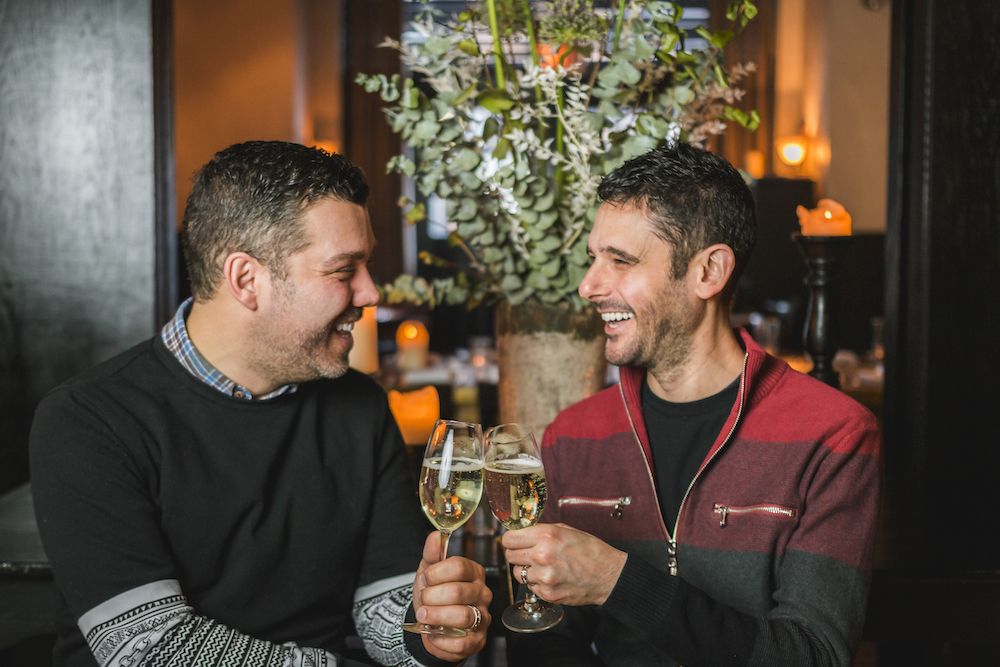 SEAN & RYAN'S CHICAGO WINTER WEDDING
Sean & Ryan hosted an unforgettable winter wedding at Osteria Via Stato on a blustery Saturday night in December. The lush, green and white florals, romantic candlelight and rustic wood tables transformed the space into a winter wonderland, reminiscent of a secret garden escape from the harsh Chicago winter. Learn more about one of our favorite couples (and most beautiful weddings!) below:
::Meet Sean & Ryan::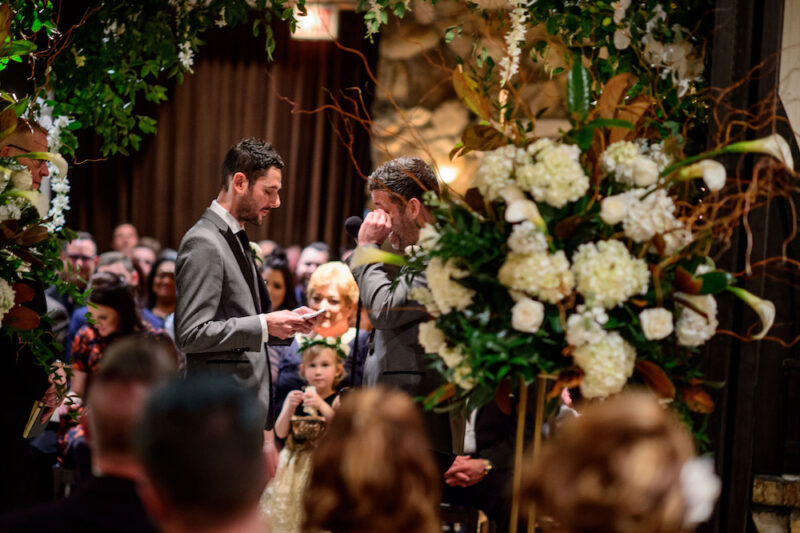 Sean: I'm Sean and this is my husband, Ryan. We met almost 7 years ago now in a truly modern way, online. We hit it off and dated for 6 years and now here we are, newlyweds!
Osteria Via Stato: Where did you get married?
Ryan: Osteria Via Stato. We were looking around for different places and venues. We were not really sure what we were looking for because we were not really sure what we wanted to do. Then we stumbled upon this gem and we have loved every single decision we've made.
osteria via stato dining room set for wedding with lush green and white floral
::The Proposal::
Osteria Via Stato: Can you tell us a little bit about your proposal story?
Sean: Ah yes, the proposal story. I planned to pop the question to Ryan on a last minute trip to Dublin to support some friends running a marathon.
We can drink, but we can't run. So our plan was to watch and slide in a little surprise. It was also a big holiday, so Dublin was insane. There were people everywhere.
Ryan: The streets were packed, businesses were closed, people were shutting down offices for the days. It was insane. There were lines out of bars everywhere. So we were in for in adventure.
Sean: So because of all of that, the place that I had in mind and had coordinated for a proposal did not work out. I had to wait until the next day.
We were watching tv in the hotel room and Ryan looked over at me asking me to get him a baby hippo, because there was a baby hippo on the screen. I told him to close his eyes and I grabbed the box from the side of the bed and put the ring on his chest and said "How about this instead? And then everyone felt great"
Ryan: And that was that. I popped out of bed and we were back on the streets in a couple seconds. Everyone was on the street with a bottle of champagne ready to go and we just rocked it out for the next 3 days.
::You're My Favorite::
Osteria Via Stato: What is your favorite thing about each other?"
Ryan: I would have to say my favorite thing about Sean is his ability to handle me. Sean picked up on my "ryanisms" pretty quickly and we know how to manage through process now and he forces me to communicate and open up. He knows how to set the mood and the tone and he puts us always one step in the right direction. He keeps me centered and focused.
Sean: What's funny is, the opposite is true for Ryan. My life is a lot of order and process and straight edges and black and white. Ryan brings a lot of the color to it. He plays outside of the sandbox and pushes my limits on a daily basis in a lot of different ways, but it's always a good time. We are always learning from each other and we have a mutual respect for each other's boundaries, but we keep growing and expanding those boundaries together which makes it work pretty well.
::The Wedding::
Sean: Everyone has been commenting continually. It's always about the food, the flowers and the service and then the music as well because the DJ was great."
Osteria: What were some of your favorite moments?
Sean: "We didn't have a wedding cake because the desserts here are so good. But it was my cousin's 20th birthday and my aunt / godmother's birthday on that day as well, so we had a birthday cake. We didn't want to do anything too serious because that would just be odd for us because we're not serious people. So we had West Town Bakery make us a beautiful tiered cake with gold dripping off the sides and this incredible armadillo on the top.
Ryan: "Coming to our wedding wasn't going to be anything stuffy and it wasn't going to be anything stiff so we decided we needed an armadillo on this cake. So that's what we did.
Sean: It was a party, that's for sure. The space looked beautiful, we were excited, everyone else was excited, we were just ready to have the best night of our lives.
Ryan:I think the top one would have to be the snow. We were both dancing our butts off and I turned around and said to Sean, "I have to go outside for two seconds" and he said "Yeah, let's go catch a break." So we walked outside and the snow was falling. We loved every minute of it. And, got an epic photo to remember it all!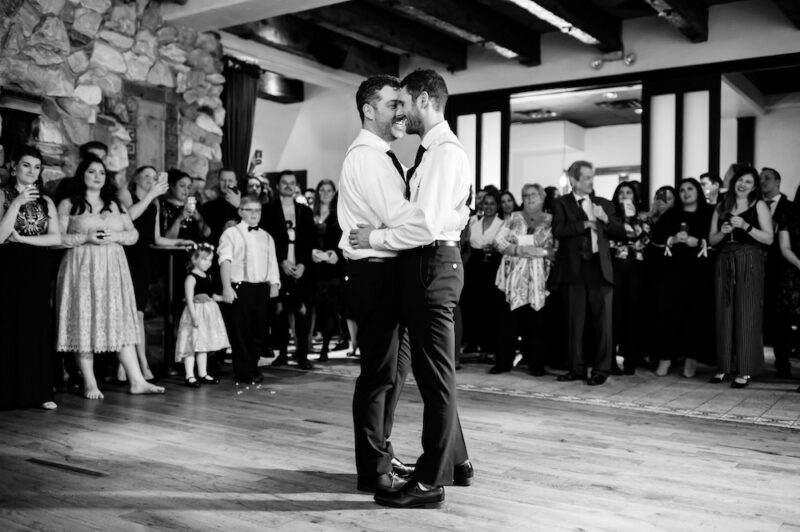 ::Vendors::
Flowers – Steve's Flower Market
Cake – West Town Bakery
Photos – Seth Morris Photography – Seth and Mary Morris
DJ – Master of Ceremonies – Vibe Setter – Fig DJs – Brent Rolland
Video – This is Feeling – Zach Green